Serving the Rim Country with quality Eye Health Care for over 30 years, we take great pride in being a reliable service that our patients can count on. It is our vision that we can continue to provide optimal care into the distant future while maintaining the high standard of care that we expect from ourselves every day.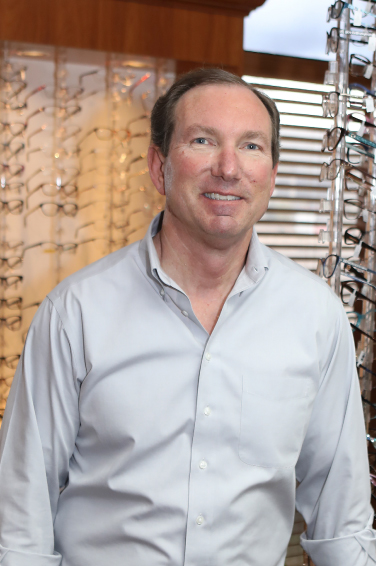 Dr. Troy S. Ford, OD
Dr Troy S. Ford, OD is a self-proclaimed "ADOT Brat"
As a child he moved with his family to Flagstaff, Casa Grande, Kingman and Safford before moving to Phoenix where he graduated from Cortez High School. He served for 2 years as a missionary for The Church of Jesus Christ of Latter Day Saints in Buenos Aires, Argentina, then attended Brigham Young University where he received a BS in Pre-professional Zoology in 1985.
Dr Ford attended the Southern California College of Optometry in Fullerton, California, graduating in 1990. Internships include advanced ocular disease training at the Indian Medical Center in Phoenix and glaucoma at the Veterans Administration Outpatient Center in downtown Los Angeles.
After graduation, Dr. Ford began seeing patients at Payson Eye Care Center 2 – 3 days a week then moved to Payson in 1991 after purchasing the practice. He has loved living, practicing and raising his family in the Rim Country these past 29 years. He and his wife Tricia enjoy hiking, golfing and visits with grandchildren. Dr Ford is an active member and past President of the Arizona Optometric Association, and a member of the American Optometric Association.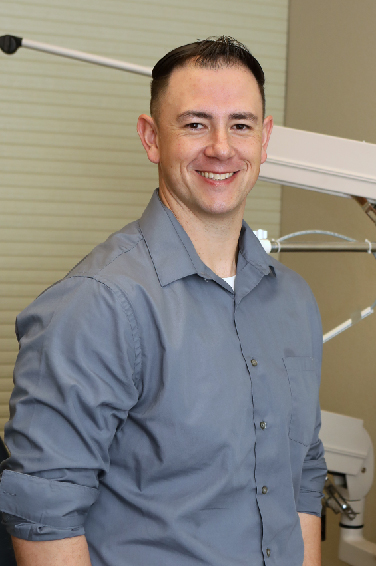 Dr. Jon Beeson OD
Optometrist
Jon Beeson is our newest Optometrist and one of our very own from Tonto Basin and a Payson High School graduate. He and his wife Katie are high school sweethearts and together are raising 3 wonderful children. Outside of optometry, he is an avid sports and outdoors enthusiast with interest ranging from snorkeling and spear fishing to golf and baseball. However; his favorite past time is spending time with his lovely family.
Doctor Beeson received his Bachelor's degree in Biology from Arizona State University. After acquiring his Bachelor's degree Dr. Beeson proceeded to work full time as an Ophthalmic Technician for Barnet Dulaney Perkins Eye Center before attending Optometry School at the Inter American University of Puerto Rico School of Optometry. Dr. Beeson is a strong advocate for the profession of Optometry as well as the care of his patients, and is active in the Arizona Optometric Association as well as the American Optometric Association.
Doctor Beeson completed advanced training during his internship in Ocular Disease and Primary Care at the Nationwide Vision Medical Center and has extensive training side-by-side with Dr. Ford for the last 2 years with a special emphasis on dry eye resolution and treatment as well as all ocular diseases. Dr. Beeson is passionate about ocular health and building meaningful relationships with his patients. He is excited to expand the premier service that Payson Eye Care Center offers and is accepting new patients at this time, so please give us call if you would like to schedule an appointment with him!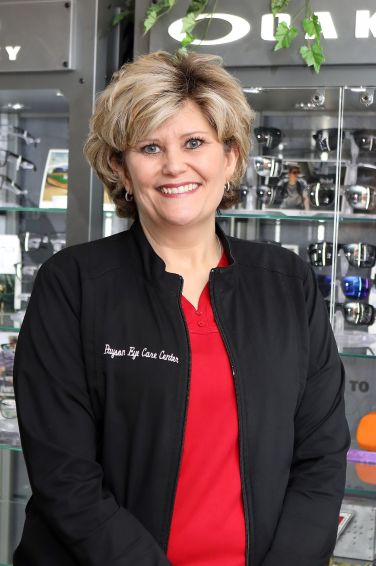 Jessica Barnett
With almost 30  years of optical experince, Jessica was destined to be an Optician. She has an insane memory and can remember almost every patient that walks through the door. Jessica's favorite part about being an optician is having the ability to make a difference in the lives of others. She has an array of optical experience including styling, adjusting and repairing eyewear as well as checking patients in and out for appointments, she can assist you with any aspect of the office.  Born in Yuma, Az and became a resident of Pine in 1978. Married to Eric Barnett, they have 3 children and make their home in Strawberry.
Mission & Values
About Us & What We Strive For
At Payson Eye Care Center, each member of our vision care team is selected by Dr. Troy Ford based upon his or her experience, professional demeanor, and dedication to providing personalized care to our optometry patients.
Our entire staff is committed to ensuring the comfort and satisfaction of each and every patient. We will do our best to accommodate your busy schedule by finding appointment times that meet your needs. Our knowledgeable staff will work with you to help you understand your vision insurance coverage and provide financial alternatives to ensure you get the best vision care possible.
We know that you have a choice when it comes to your eyecare, so we strive to provide comprehensive eye exams, a great selection of glasses, and personalized care that you can trust and rely on.
Our Mission
 At Payson Eye Care Center, we recognize the value of every person and are guided by our commitment to excellence and caring service. It is the mission of our practice to exceed each patient's expectations and instill loyalty to our office by providing quality ophthalmic services in an environment that reflects our professionalism and dedication to serving the needs of our patients and our community.
Our mission is to help you achieve and maintain a clear vision for years to come. It shows in everything that we do. From your first contact with us to your appointment and your follow-up, we aim to make your eye care experience great. This is what drives us to provide you with the best care year after year!
Customer service is key to our success and we strive to maintain the highest standards in eye care with personalized service and the latest technology. We take pride in knowing our patients will receive the best care and are proud to ensure an intimate eye care experience. We value our patients and offer them the best technology and highest quality eyewear on the market. By investing in the latest technology, we keep stride with industry improvements and thus improve our business. We value our patients' time by being convenient to their workplace and timely in our appointment scheduling and punctuality. Our patients are our priority and our goal is to accommodate their needs!